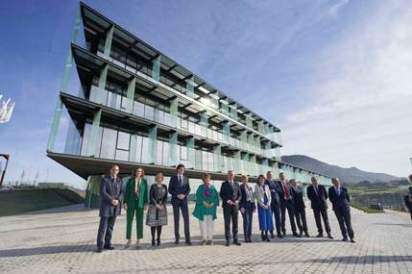 News
Inauguration of the Energy Intelligence Centre (EIC) building in the new Abanto campus of the Basque Country Network of Technology Parks
Mr. Iñigo Urkullu, Premier of the Basque Government, and Ms. Arantxa Tapia, Basque Government Minister of Economic Development, Sustainability and the Environment, took part on Monday, 20 March, in the official inauguration of the building that houses the Energy Intelligence Centre (EIC) and the headquarters of the new Abanto Campus of the Basque Country Network of Technology Parks.
The new facilities provide a space for companies to develop R&D&I projects in advanced technologies linked to the energy transition. The first companies to move in will be Petronor, AMPO, Tubacex, Tubos Reunidos and Vicinay.
The new Abanto campus, with an investment of 70 million euros, will be key in the development of strategic projects in the Basque Hydrogen Corridor. Furthermore, it will be the first business environment with a hydrogen supply, provided through a hydrogen pipeline constructed by Petronor-Nortegas.
The EIC building covers a total surface area of 18,932 square metres divided into two different areas that house the headquarters of the new campus and the EIC. The Energy Intelligence Centre itself occupies 7,907 square metres, distributed over four floors that will house the offices and laboratories for the companies and an industrial building with full-scale machinery. The new facilities have been designed as a centre of excellence to coordinate a technological and industrial ecosystem geared towards new fuels and hydrogen.