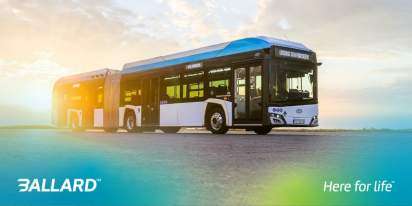 News
The new Solaris (CAF) Urbino 18 hydrogen bus, ready to transform zero-emission public transport in European cities
Solaris Bus & Coach has once again provided an innovative transport solution in the medium-duty transit market by unveiling the new Urbino 18 hydrogen fuel cell electric bus, powered by Ballard's compact and robust FCmove™-HD+ 100 kW fuel cell module.
Ballard's powerful FCmove™-HD+ fuel cell module transforms hydrogen into electricity to power the vehicle's driveline, and is the functional core of the Urbino 18 hydrogen bus. With over 50kg of hydrogen stored in eight roof-mounted tanks, the distributed drive with the 100kW fuel cell enables an extended overall range of 350km, even with challenging routes and conditions, and an average refuelling time of 10-20 minutes.
The first deliveries of Solaris' hydrogen Urbino 18 to global bus markets will begin before the end of 2023 and in the first quarter of 2024. The model can also be type-approved as a Class II vehicle, enabling it to be deployed on inter-city routes.