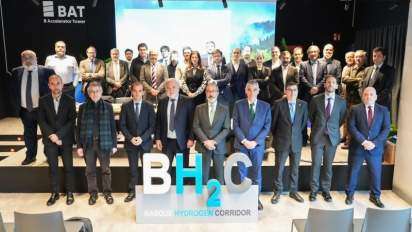 News
The Basque Hydrogen Corridor (BH2C) holds its third General Assembly in Bilbao. The BH2C already has 46 projects ongoing and this year will see the production of the first renewable hydrogen in the Basque Country.
The Basque Hydrogen Corridor BH2C continues to grow, both in members and organisations. This year, several important projects will see the light of day, and the first renewable hydrogen will be produced in the Basque Country.
This was the backdrop to the BH2C Board of Directors meeting held on Wednesday 24 January in Bilbao, and to the General Assembly held immediately afterwards. The governance bodies and structure of the Association have been consolidated in this, its first year of existence. In addition to all the activities, meetings and events organised, the stand-out achievement in 2022 has been the award given to the BH2C by the Clean Hydrogen Alliance as the "European H2 Valley of the Year".
The Assembly was informed of the inclusion of eight new projects in the activity of the BH2C in different phases of the value chain, such as production, mobility, transport and distribution and technological projects, and of the incorporation of four new member organisations: HyFive, ITP Aero, Lumiker and Nemak.
In addition, the 2023 Business Plan was approved, with a focus on 3 objectives:
To give fresh impetus and drive to the internal activities of the Association, with a view to enabling synergies and collaboration and promoting the development of the different projects of the BH2C.

To optimise the challenges of the different public funding programmes.

To consolidate the standing and image of the BH2C as a benchmark initiative in the field of hydrogen, both nationally and internationally.