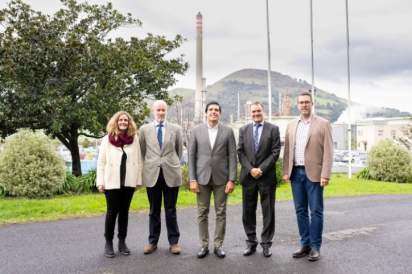 News
Visit to Petronor by the Executive President of the Chamber of Commerce of Cartagena (Colombia)
The Executive President of the Chamber of Commerce of Cartagena (Colombia), Juan Pablo Vélez, visited the facilities of Petronor this morning to learn first-hand about the company's projects. Accompanied by Enrique Velasco, Director of Business Development and Internationalisation of the Bilbao Chamber of Commerce, and Izaskun Arregi, a technician in the same department, Mr. Vélez was welcomed by Manu Núñez, Director of Petronor Innovation, and by Asier Madariaga, on behalf of Alba Free Energy, a Petronor subsidiary.
After the initial welcome, the two parties held a meeting in which the ongoing projects of Petronor and the company's commitment to energy sustainability were discussed, highlighting hydrogen as a major energy carrier and key element for decarbonisation. Additionally, a presentation was given on the Basque Hydrogen Corridor.
Juan Pablo Vélez was also briefed on the logistics plant and the hydrogen refuelling station to be set up in the Abanto Zierbena Technology Park, after which the two Chambers of Commerce exchanged information on their activities with a view to exploring and opening up potential opportunities for cooperation. The visit ended with a visit to the panoramic viewpoint and Control Room 1 of the refinery.