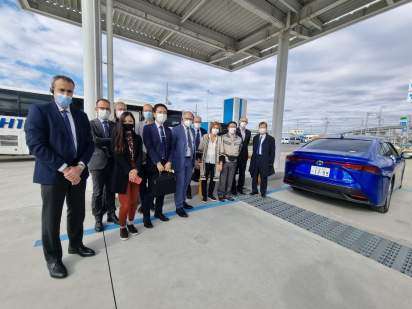 News
Visit by a Basque delegation to the prefectures of Aichi, Hiroshima and Kyoto to learn about regional policies and tools to support research and innovation.
The delegation contained representatives of the Basque Government (the Office of the First Minister and the Departments of Education and Economic Development, Sustainability and the Environment), the Basque Research & Technology Alliance and the Basque Hydrogen Corridor.
The visit to the three Japanese prefectures is part of an interregional cooperation project between the EU and Japan, promoted by the "International Urban Cooperation" (IUC) program of the European Commission, together with the Japanese Ministry of Land, Infrastructure, Transport and Tourism.
In Aichi, the delegation visited a Hydrogen Station at the international airport on the island of Chubu, which includes a supply centre and a hydrogen refuelling station for fuel cell vehicles and forklifts. This demonstration project forms part of the strategy of the prefecture to create a hydrogen society. Visits were also made to the start-up incubator "Pre-Station Ai" its continuation through the public-private partnership project "Station Ai", designed to promote start-ups, open innovation and 5G, the "Aichi Knowledge Hub", the "Aichi Center for Industry and Science Technology" and the "Aichi Sinchroton Radiation Center". Finally, a meeting was held with the Governor of Aichi Prefecture.
In Hiroshima, the group visited the "Digital Manufacturing Education and Research Center" and the Higashi campus, both located in the Central Science Park and belonging to Hiroshima University. The Higashi-Hiroshima campus is a long-term driver project that links a large scientific university campus with industry, administration and society-at-large, and has become an important hub of innovation. In addition, a meeting was held with the Prefectural Government, in which the main innovation strategies of the prefecture to achieve an innovation-driven region were discussed.
The main interests in this Cooperation Program are closely related to the priorities established in the Science, Technology and Innovation Plan of the Basque Country 2030. During this study visit, important areas of common interest have been identified with two of its strategic priorities, such as Smart Industry and Cleaner Energies, as well as collaboration in Scientific Research of Excellence.
Full story: A Basque delegation has visited the prefectures of Aichi, Hiroshima and Kyoto to learn about regional policies and tools to support research and innovation - Basque Government - Euskadi.eus