Sarralle, the engineering company from Gipuzkoa which is leading the H-Acero project alongside large Basque companies in the sector such as ArcelorMittal, Tubacex, Tubos Reunidos, Sidenor and Nervacero, all of which are also driver companies of the Basque Hydrogen Corridor (BH2C), is working on a prototype reheating furnace that would reduce a factory's gas consumption by 80%.
This same consortium has already commissioned a ladle heater (used for transporting molten steel) in a plant that runs entirely on green hydrogen. This is an initial but major step forward on the way to achieving a prototype reheating furnace, the focus of Sarralle's efforts and which accounts for between 75 and 80% of natural gas consumption in most steel mills.
According to Itsaso Auzmendi, Head of Sarralle's hydrogen business line, technology for the use of hydrogen in the steel industry already exists, and has been proven in laboratory trials. The step being taken now is the deployment of this technology in steelmaking equipment at the industrial level.
Hydrogen, a key link
All the major Basque engineering companies are not only committed to clean energy projects but also competing in the hydrogen race. In this respect, the competitive advantage of Sarralle lies in the application of this technology to the world of steel, which accounts for approximately 10% of CO2 emissions.
The research being conducted by H-Acero, with financial support from the Basque Government, has two main lines: firstly, to ensure that hydrogen gradually replaces gas in equipment to avoid pollutant emissions, and secondly, to study how this element affects the different types of steel in terms of storage and transport, which is one of the major difficulties in this field. Tube manufacturers such as Tubacex and Tubos Reunidos are looking to hydrogen as a new source of business by demanding specific manufacturing processes and particularly resistant materials.
In terms of steel mill production processes, Arcelor Mittal's Gijón-based project for hydrogen-powered production, one phase of which will be conducted in its plant in Sestao (currently idle due to high electricity costs), is still ongoing. The multinational company has calculated that its new plant in Asturias for direct reduced iron (DRI) using green hydrogen, the basis for the raw material for manufacturing 100% ecological steel coil in the ACB of Sestao, will not be fully operational before 2025 .
Next year, Sarralle will start testing in this direction, mainly focused on reheating furnaces. The Gipuzkoa-based  company is currently engineering the prototypes, which it expects to have ready by the end of the year with a view to being able to start up and conduct the first tests with hydrogen in 2023, explains Auzmendi. In addition, Sarralle is already designing solutions to facilitate supply to steel mills with its own clean hydrogen production equipment. The main partners of Sarralle include Arcelor Mittal itself, the Celsa Group, owner of Nervacero, Aceros Olarra and Sidenor.
Link: https://www.cronicavasca.com/empresas/sarralle-iniciara-ensayos-con-hidrogeno-en-acerias-en-2023_721010_102.html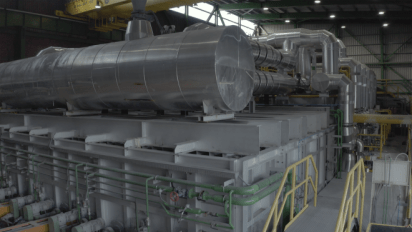 Sarralle to complete prototypes for hydrogen use in steel mills by the end of the year, with a view to starting trials in 2023