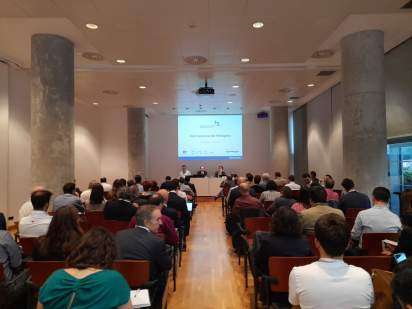 News
Petronor presents the latest developments of the Basque Hydrogen Corridor at the Hydrogen Sector Forum of the Energy Cluster
The event held at the Euskalduna Conference Centre on Thursday, 27 October, brought together players involved in the Basque Hydrogen Corridor to learn first-hand about the progress being made in several projects led by Alba Emission Free Energy (a subsidiary of Petronor) and Nortegas.
The event, organised by the Energy Cluster Association (ACE) in collaboration with ACICAE, ACLIMA, the Mobility and Logistics Cluster, FLUIDEX, FMV, HEGAN, MAFEX and SIDEREX, and once again coordinated by Petronor, was attended by over 120 people from the sector.
Arturo Fernández, on behalf of Alba and representing the Basque Hydrogen Corridor, summarised the current state of the project and the progress made in recent months. BH2C is currently taking active part in several initiatives (Ebro Hydrogen Corridor, the Working Community of the Pyrenees and the Basque Net Zero Industrial Super Cluster) with a view to strengthening the ecosystem and creating synergies with similar projects. He also added that the 2.5 MW electrolyser is currently one of the most advanced projects of the BH2C.
Another of the morning's presentations was given by Juan Villar, COO of Nortegas, who outlined the progress being made in the H2SAREA project. Mr. Villar emphasized that the project is meeting the objectives set and that progress against all milestones has been satisfactory.
The project, funded under the HAZITEK program of the Basque Government, covers four research areas. In the first one, blending, it has been seen that 5% of hydrogen in the blend is suitable, so the percentage will be progressively increased to 10% and so on sequentially. In the area of materials, it has also been demonstrated that pipes with plastic and metallic materials are suitable, and in the domestic area, tests are continuing satisfactorily. Finally, in the industrial area, work continues on case studies.
For further information on the presentations, please visit the Energy Cluster website at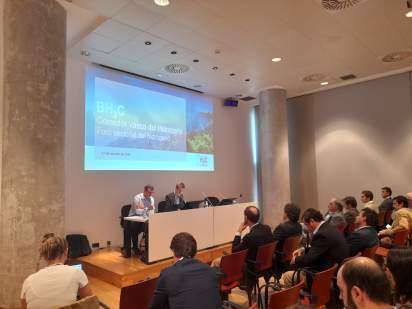 BH2C presentation at the Energy Cluster Sector Forum