Arturo Fernández, Hydrogen Project Development Manager at Alba Emission Free Energy (a subsidiary of Petronor), has participated, together with representatives of the Energy Cluster, in the REIF (Renewable Energy Industrial Fair), organised by the Government of Fukushima Prefecture, where he presented the Basque Hydrogen Corridor (BH2C) as an opportunity to meet the challenge of decarbonisation through the use of H2.
Arturo Fernández spoke at the international seminar held within the framework of this fair. The aim of the presentation was to explain to Japanese industry Petronor's commitment to the development of a hydrogen economy through the BH2C, and to showcase the latest developments in the singular and strategic projects in which the BH2C is working. In addition, bilateral meetings were held to exchange experiences with leading players of the hydrogen sector in the Fukushima region.
The Basque Country was represented by Petronor at the joint stand of the Energy Cluster and Basque Trade and Investment. In addition to its presence at the fair, which was held from 13 to 15 October, the visit also included other activities on 11 and 12 October, including a specific H2 workshop, visits to the AIST Fukushima Renewable Energy Research Institute (FREA) facilities in Koriyama and to the "Fukushima Hydrogen Energy Research Field (FH2R)" infrastructure in Namie.
Fukushima is a particularly interesting region as it is one of the cornerstones of the Japanese government's commitment to the deployment of renewable energy. Furthermore, it is home to several reference projects in hydrogen technologies. In fact, it is the only Japanese prefecture with an initiative recognised as a Hydrogen Valley (FH2R).
Link: Petronor presents the Basque Hydrogen Corridor in Fukushima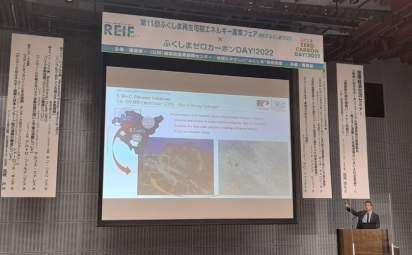 Arturo Fernández during his presentation at the REIF Fair.