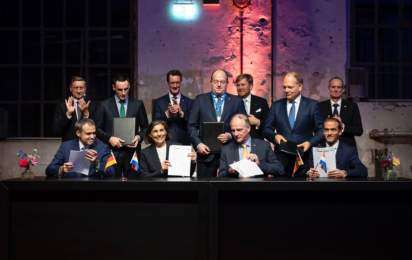 News
Petronor, EVE, duisport, the Port of Amsterdam and the Port of Bilbao announce the development of an intra-European corridor for renewable hydrogen.
The Port of Bilbao, the Port of Amsterdam and duisport, together with the Basque Energy Agency, Petronor, Evos Amsterdam and Zenith Energy Terminals, have signed a Memorandum of Understanding (MoU) to study the possible development of an intra-European corridor for renewable hydrogen. The MoU reflects the ambitions of the European Union to create intra-European corridors of this type, with the governments of Spain, Germany and the Netherlands playing a leading role.
This MoU, as well as a Joint Study Agreement (JSA), were signed during the H2 Connecting Event in Duisburg, in the presence of His Majesty Willem-Alexander, King of the Netherlands. The MoU builds on another agreement signed in the second quarter of this year between Bilbao and Amsterdam, with the specific aim of setting up a corridor to enable Basque-produced renewable hydrogen and hydrogen derivatives to be exported to the port of Amsterdam for local offtake. With the incorporation of duisport, this corridor can be extended, transforming the port of Amsterdam into the gateway to the German market and thus opening up the possibility of supplying hydrogen of Basque origin to the large industrial offtakers in the Rhine-Ruhr region.
As part of their cooperation, the parties will focus on the production of renewable hydrogen by Petronor in the Basque Country, the identification of offtake potential and demand centres in Duisburg and its surrounding industrial regions, and an assessment of transport, storage and distribution methods to provide solutions that secure the supply of renewable hydrogen and its derivatives to the respective end-users.
Source: EVE