On Friday 4 November, the first forum of the Ebro Hydrogen Corridor (EH2C) was held at the Ciudad Agroalimentaria (CAT, Agrifood City) in Tudela. Over 200 companies from the four regions involved in the initiative (Basque Country, Navarra, Aragon and Catalonia) attended the event, in which 43 projects across the entire hydrogen value chain were presented.
The CAT will be the site of the first green hydrogen plant to be built in Navarra for industrial use.. The project has an investment budget of 10 million euros and, as a public-private initiative, will be financed by European Next Generation funds. Under these funds, the plant, with a production capacity of 10 MW, is scheduled to be operational before the end of 2026.
The goal of the Ebro Hydrogen Corridor is to:
lead the deployment of the renewable hydrogen value chain in Southern Europe;

be a pioneer project of public-private and cross-regional and multi-sectoral cooperation, with the common objective of the decarbonisation of the economy and the economic and social development of the region; and

develop local technological and industrial capacities.
The Ebro Hydrogen Corridor will promote actions in all areas, including production, transport, use and storage. With regard to renewable hydrogen production, the EH2C ecosystem has set itself the target of installing a production capacity of 400 MW by 2025 (which entails 1.5 GW of associated renewable generation production), and 1.5 GW by 2030 (6 GW of renewable).
The Forum was attended by representatives of the governments of Navarre, Aragon and Catalonia, and by José Ignacio Zudaire and Iñigo Ansola, President and Vice-President of BH2C, respectively, who stressed the importance of working together, "joining forces, promoting synergies and taking advantage of complementarities to create a cluster of sustainable development and innovation based on the green hydrogen economy".
During the meeting, the decisión was taken to draw up a document outlining the initiatives being taken forward by the four valleys (Basque Country, Catalonia, Aragon and Navarra) within the Ebro Hydrogen Corridor to position itself as a leading initiative in the sector. In this line, José Ignacio Zudaire highlighted that the BH2C has just obtained in Brussels the European H2 Valley 2022 Award, and that "two of our projects have been recognised as IPCEI's (Important Projects of Common European Interest)".
Link: The Ebro Hydrogen Corridor holds its first forum between companies in which 43 projects from 4 autonomous regions were presented
10 million euro investment for the green hydrogen plant in Tudela (diariodenavarra.es)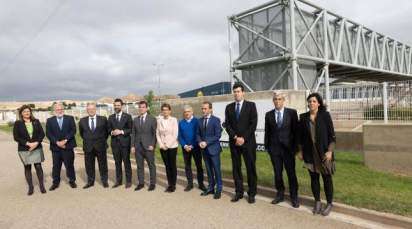 Representatives of the four autonomous regions comprising the Ebro Hydrogen Corridor, together yesterday at the Agrifood City of Tudela (CAT)