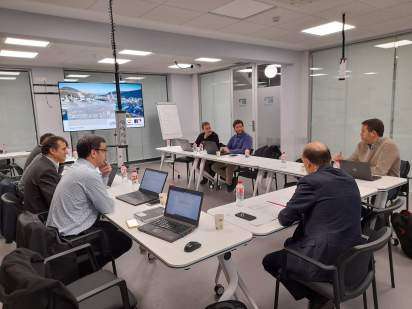 News
The Basque Hydrogen Corridor Association BH2C holds the first meeting of the Working Group of the Mobility Demonstration Project in Bizkaia
The first meeting of the Working Group of the Mobility Demonstration Project in Bizkaia, bringing together the different players involved in the development of the project, was held last Wednesday, 11 January 2023, in Muskiz.
The meeting was coordinated by the Energy Cluster and attended by representatives of several different mobility-related initiatives, such as the Petronor 2.5 MW electrolyser project, the Repsol project on the logistics, distribution and dispensing of H2, the project to deploy a fleet of buses in Bizkaia of the Area of Transport and Sustainable Mobility of the Provincial Council of Bizkaia, and the H2 bus prototype of Irizar.
The meeting was held to report on the progress of the different initiatives. To do so, each representative made a brief presentation of the current state of their project, future steps to be taken and relevant aspects that connect it with the other initiatives.
The Working Group is scheduled to meet on a quarterly basis to align dates and report on project roll-out.