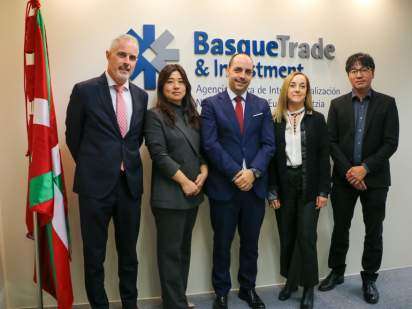 News
The Basque Country opens a trade delegation in South Korea and presents the Basque hydrogen strategy
Throughout the last week of November, a Basque delegation, led by the Vice-Minister of Industry and President of Basque Trade and Investment / the Basque Agency for Internationalisation, Mr. Mikel Amundarain, has been on an institutional and business mission to Seoul, where this week a new trade delegation at the service of Basque business and companies with needs and business interests in this market has been opened.
From a sectoral standpoint, South Korea is a reference country in innovation and technology. The Basque Country has an interest in establishing a presence and developing and improving its competitiveness in the country, which can potentially become an important partner for the Basque Country.
Strategic sectors have been identified on the basis of areas of interest and opportunity, and where partnerships to grow together can be taken forward. The delegation has visited and met with sectorial associations, institutions and technology centres, with a special focus on the generation of green hydrogen, semiconductor manufacturing and biotechnology.
- Public-private organisation to support the production, storage, supply and use of hydrogen, to make the hydrogen economy a reality.
- Doosan corporation. Hydrogen Fuel Cell Power Plant, a hydrogen fuel cell power generation facility built by Daesan Green Energy.
The Asia-Pacific region is of major economic interest because Asia will be the region with the greatest future economic growth in most of the strategic sectors of the Basque Country. It will also make the largest investments worldwide in key areas such as power generation and grids, machine tools, telecommunications and social and health care.
In this specific case, not only is South Korea a country of sophisticated demand and economic and regulatory stability, but also one which is highly complementary with the Basque economy and business friendly.
Source: Irekia Eusko Jaurlaritza - Basque Government (euskadi.eus)
Irekia Eusko Jaurlaritza - Basque Government :: The Basque Country opens a new trade delegation in South Korea at the service of Basque companies